Centramatic On-board Balancing System

Automatically balances your wheels while you drive
Centramatic has put more than 1.5 million patented wheel balance rings on the road throughout the world. Centramatic's success is simple: THEY WORK!
Video Demonstrations
• Bruce S. Reilly explains 'what', 'how' and the three types of balance ring:
• The American manufacturer's demonstration:
Save Tyre Life
Centramatic continuously balanced wheels reduce the constant out-of-balance 'pounding' effect, causing side wall flex and heat build up, resulting in tyre cupping and premature tyre tread life. Additionally, they act as cooling fins, reducing heat from the tyre / wheel / hub assembly. Tyre life is enhanced!
Save Fuel
When all the vehicle's wheels are continuously balanced, the road-frictional resistance is considerably reduced, therefore using less engine horsepower to operate the vehicle. This results in reduced fuel consumption.
Save Money
With Centramatics, the cost and downtime of shop balancing is eliminated. Tyre rotation becomes simpler. Balance is continuous. Balance Rings usually pay for themselves during the second set of tyres.
Centramatic explained
The Centramatic on-board balancing system is a patented harmonic device. The balancer uses centrifugal force and deflection to automatically distribute balancing media precisely where needed to remove imbalance.
The balancer consists of a mounting plate and circular tube, with small durametal spheres and damping fluid making up the balancing media.
Centramatic at work

UNBALANCED WHEEL
Balancing weights move automatically opposite out-of-balance point, balancing the wheel

BALANCED WHEEL
Evenly distributed spheres show an already balanced wheel
Centramatic balancers are available for:
US, European and large Japanese trucks
Inboard Steer, Outboard Steer, Dual / Trailer
Other applications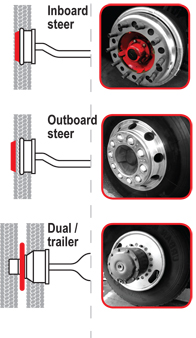 Associated products
WHEEL CENTRE-ING SLEEVES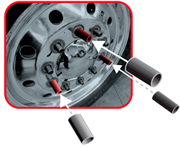 3 steel sleeves used to accurately centre the wheel on the hub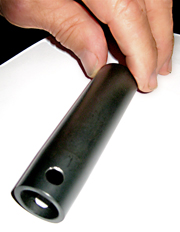 WHEEL STUD CLEANING BRUSH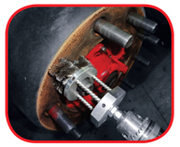 A rotating wire brush to clean wheel studs easily and quickly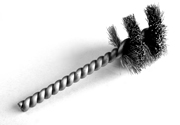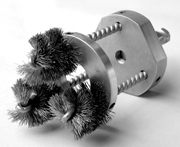 TYRE TRUER
MACHINE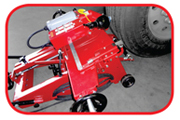 Cuts the tyre to correct an out-of-round condition